33.19.  United States Newspaper Program
---
The United States Newspaper Program (USNP) is a coordinated national effort to identify, preserve, and make available to researchers a significant portion of the published in the U.S.  Integral to the preservation effort is the construction of a comprehensive national newspaper   containing bibliographic and holdings records for more than 150,000 titles.  USNP activities are primarily conducted through collaborative projects organized on a state-wide basis.  In each state and territory, many agencies and institutions will share in the work of the newspaper project, coordinated in most cases through the single institution in the state that maintains the most comprehensive newspaper collection.  In addition to the creation of a national database containing bibliographic and holdings information for newspapers, it is expected that each state will produce and distribute a union list of newspapers published within the state.  It is also expected that the cataloging and preservation of a state's newspaper holdings will become a continuing commitment beyond the term of the project.
Program management and technical coordination functions for USNP are shared by the National Endowment for the Humanities and the Library of Congress.  OCLC makes the OCLC Online Union Catalog available for USNP participants to record bibliographic, location, and holdings information, and provides database support and assistance with training, online quality control, and union list products.
The bibliographic and union listing components of USNP are conducted within the purview of the CONSER Program.  State and repository projects are granted CONSER membership status for the term of the project.  All USNP projects are self-authenticating, and records authenticated by participants are distributed as part of the Library of Congress' MARC Distribution Service.
USNP is not required to follow the CONSER practice of creating separate records for U.S. titles in microform, but generally uses the "master record convention" to account for the various physical forms in which a newspaper is held.  The bibliographic record describes the newspaper as it was originally published.  The physical format, whether original newsprint, microform, or , is described in the Copy Field of the OCLC local data record (Figure 33.19.).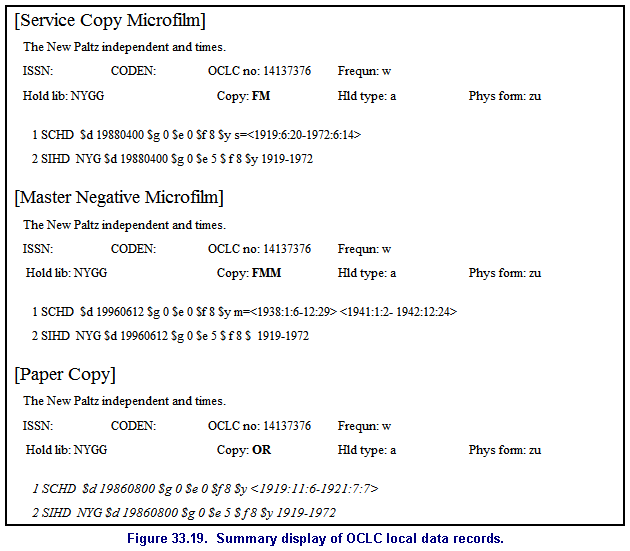 See also: