C.5C. [Formerly C.4C]
Apply C.5C to Chinese, Japanese, and Korean languages whenever a vernacular numeral represents a typographic variant of an arabic numeral or constitutes a numerical concept symbolized by an arabic number.
1. Consider that C.5C cannot apply to the following terms:

2. Convert the following to arabic numerals when they represent true numbers; otherwise, romanize them as a word:

but

Note: For the numerals from one to nine that have no equivalent arabic form, follow 1. above, except those used in dates.

Exception: When the date is a principal element of a title proper in Japanese, romanize it in word-form with its particular reading.

3. Retain arabic numerals as they appear in corporate names or titles.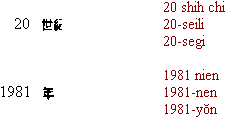 If an arabic numeral has a particular reading in Japanese idiomatic usage, however, romanize it in word form.

4. Ordinal numbers:
a. Apply C.5C to Chinese and Korean ordinal numbers belonging to a sequence.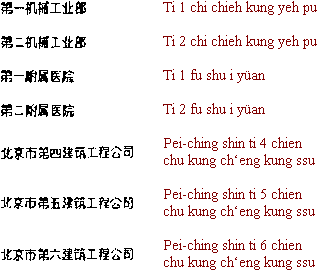 but

b. Apply C.5C to Japanese ordinal numbers used in headings for divisions or sections of corporate bodies or divisions or branches of armed forces. (For ordinal numbers in titles, follow 1. - 3. above.

but

See also: